Duo Leivategija-Chernichka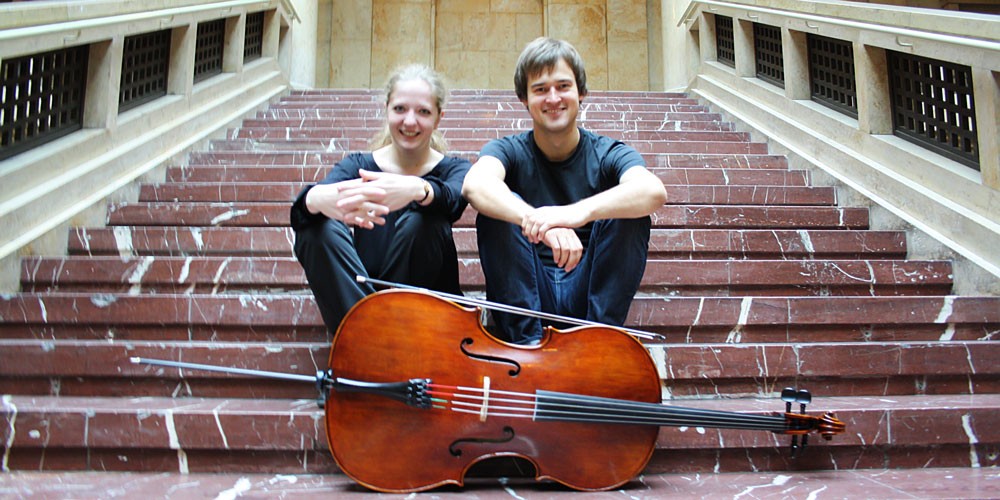 The chamber music festival "Tage der Kammermusik" at the Munich University of Music and Performing Arts in 2008 brought the cellist Indrek Leivategija and the pianist Tatiana Chernichka together. Since then the duo has given many concerts in Germany, Estonia and Italy and taken part in such festivals as the Chamber Music Festival in Schaffhausen, Switzerland, the Swedish Kammermusikfest and the Cello Festival in Estonia.
In the years 2010 and 2011 they made three recordings for the Bavarian State Radio (Bayerischer Rundfunk), which are broadcast regularly.
In May 2010 the duo won the First Prize at the Salieri-Zinetti Chamber Music Competition in Verona, Italy, and in 2012 they were also awarded First Prize by the Kulturkreis Gasteig e.V.
The duo has received instruction by Professors Friedemann Berger, Wen-Sinn Yang and Eliso Virsaladze. They have also participated in master classes with such famous musicians as Ana Chumachenco, Werner Bärtschi, Menahem Pressler and Wolfgang Boettcher. In 2014 they completed their Master's Degrees in chamber music at the Munich University of Music and Performing Arts.
Indrek Leivategija
Indrek Leivategija was born in Tartu, Estonia. He received his first cello instruction at the age of 5 from Reet Metsund at the Heino Eller Music School in Tartu.
From 2006 to 2011 he studied at the University of Music and Performing Arts in Munich with Professor Wen-Sinn Yang. In March 2014 he and his duo partner, Tatiana Chernichka, also received a Master's Degree with honors in chamber music.
Indrek Leivategija has won numerous awards in international competition, among them the First Prize in the ESTA Competition in 2003 and 2005, Second Prize in the Wlikomirzki Competition in Poland in 2003, and Second Prize in the Festival Competition "Con Brio" in Estonia in 2008. Together with Tatiana Chernichka he won the Salieri-Zinetti Chamber Music Competition in Verona in 2010 and the Gasteig Cultural Prize in Munich in 2012.
As a temporary substitute he played in such renowned orchestras as the Symphony Orchestra of the Bavarian State Radio, the Radio-Symphony Orchestra Stuttgart of the SWR, the orchestra of the Estonian Opera House, and the Estonian State Orchestra. In this capacity he played under such conductors as Mariss Jansons, Lothar Zagrosek, Herbert Blomstedt, Sir Colin Davis and Zubin Mehta.
Indrek Leivategija has taken part in master classes with Troes Svane, Peter Bruns, Wolfgang Boettcher and Natalia Gutmann, among many others. Besides participating with his string quartet, "TetrArchi," in numerous festivals and master classes, he has made several recordings.
In April 2012 Indrek Leivategija was named associate principal cello with the Bamberg Symphony Orchestra.